Design Applications and Automate Processes




Without Coding
Compose is a low-code application development platform for electronic forms, process automation, and case management.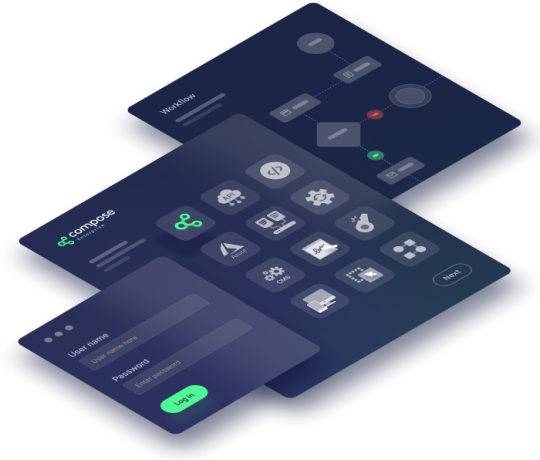 Join these low-code adopters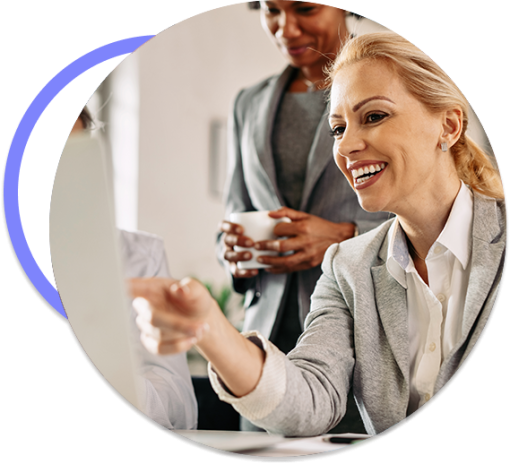 Faster time to market with low-code
You don't have to spend months developing software. Low-code makes it easy to build apps that grow with your business.
In Compose you can drag & drop ready-built components and configure with little or no code. Automate workflows swiftly and integrate with ease to popular solutions like VIPPS.
Built-in security and GDPR compliance allow you to focus on process automation, and not waste time on technical issues.
With low-code you get the deployment speed of an off-the-shelf product combined with the flexibility of a custom-built solution. 
Fully customizable end-user experience
With Compose you can customise your end-user experience with CSS – so you can make it look like they never left your website or just make it suit your branding and style. 
Together with the ability to auto-fill forms for users from API:s Compose is sure to give your end-user the best possible experience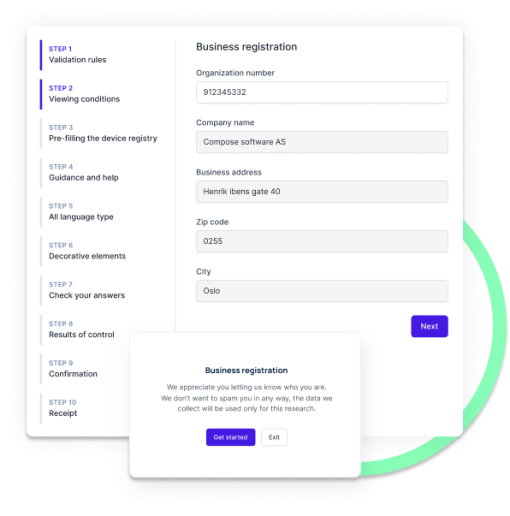 Let's get down to the brass tacks
We have experience building large-scale low-code solutions for clients with high demands – so you can feel safe that Compose is robust and will continue to grow and scale with your needs.
Concurrent users per Second? We got you covered
Forms handled quarterly, just for one client
Submitted workflows handled annually
Active deployed workflow sessions
Find out how Compose works and what functions are right for your automation needs.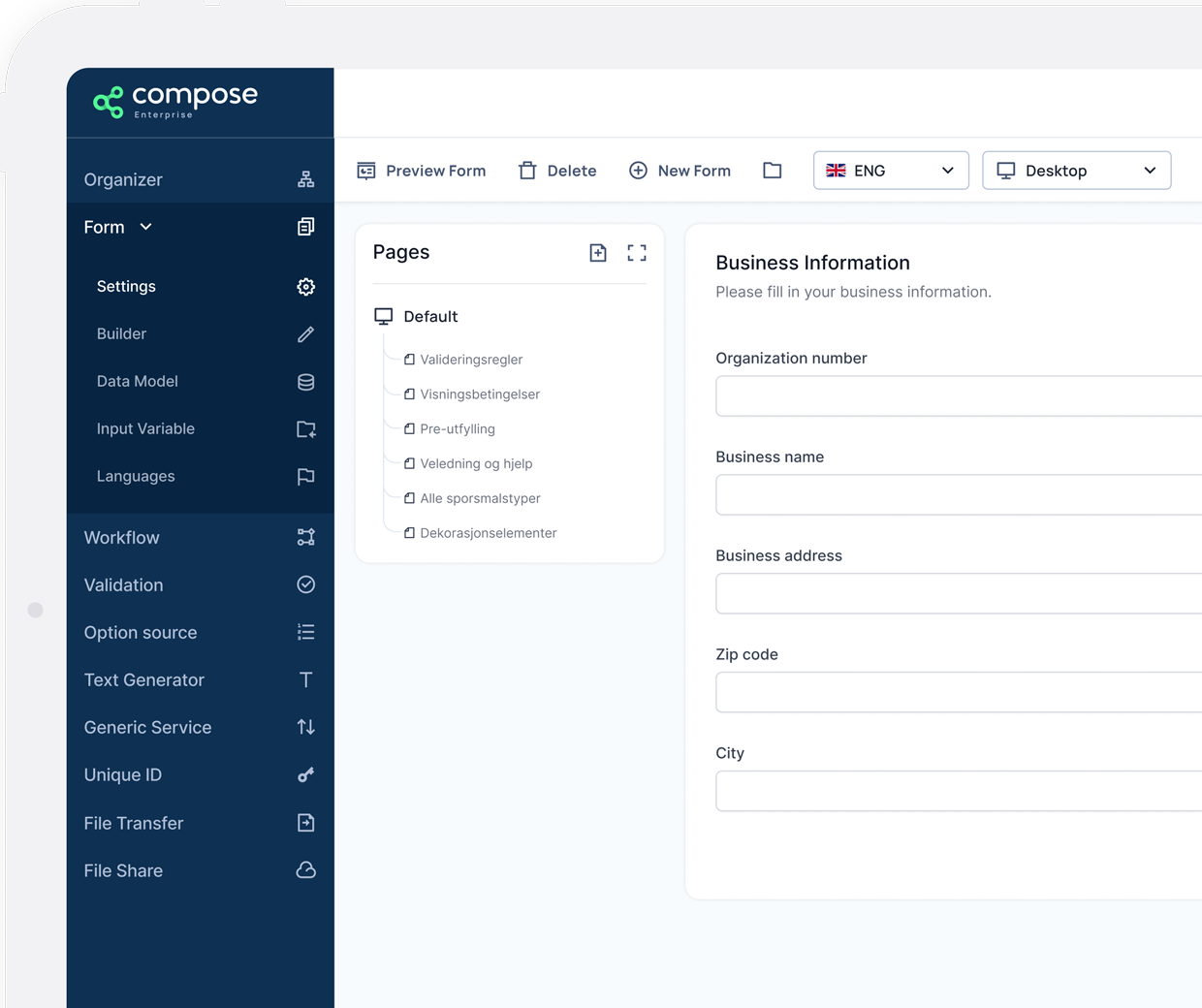 Create the form you need
Drag and drop the different input fields your need, automatically pre fill the information from an API or public database for your users to utilize
Make it fit your brand
Style the form experience with CSS so it fits your brand and look – you can even make it feel like they never left your site
Deploy and collect data from endless forms
Compose Enterprise is built to handle large volumes of form submissions and up to a 1000 concurrent users, per second! So you'll never have to worry about capacity issues again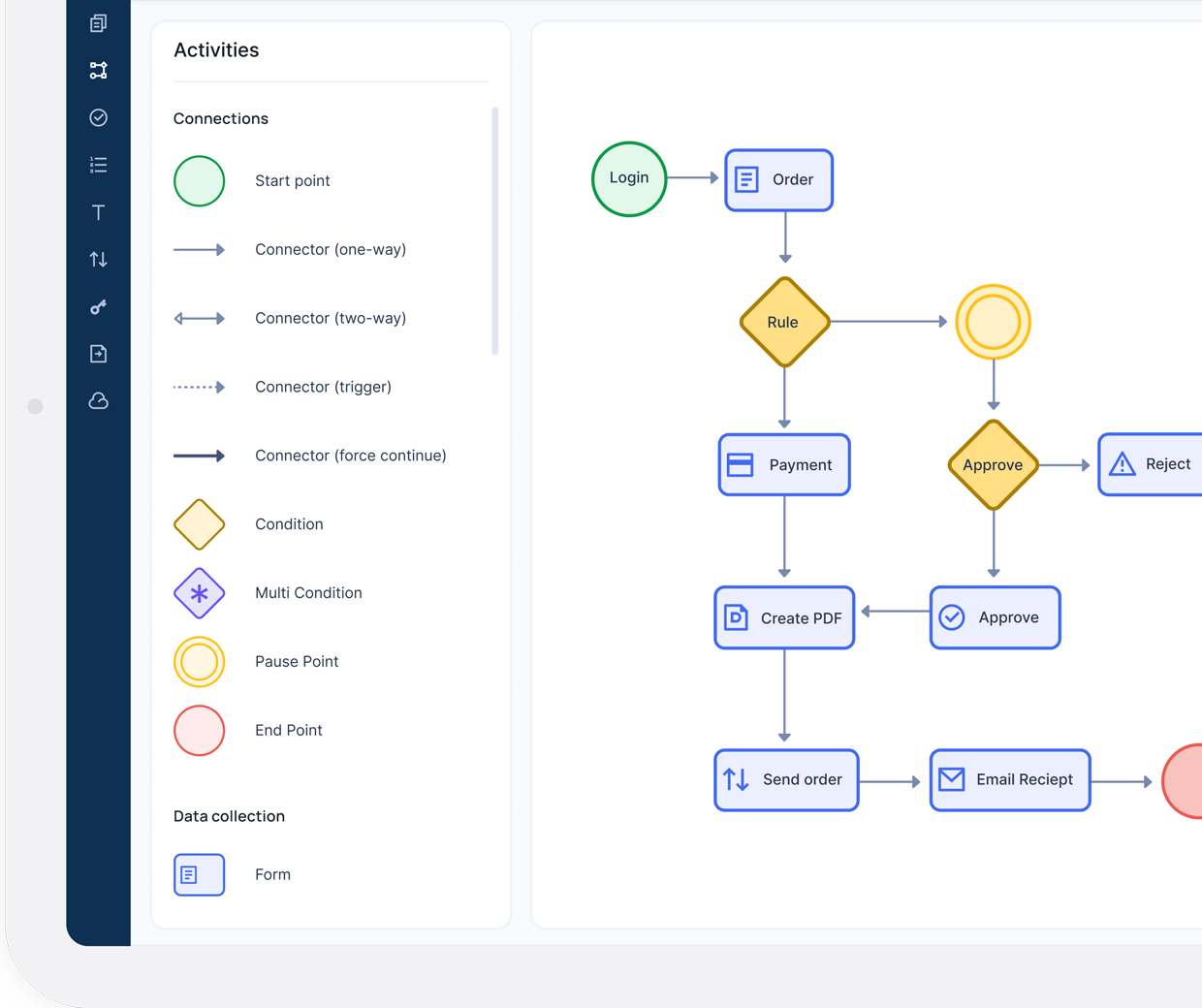 Automate in our drag-and-drop builder
Automate your processes with ease, drag and droppable modules with easy configuration. Take control of your digital processes
Standardized services and built-in safety
ID-porten authentication, Bank-ID, Online signing, payment services and more. All GDPR compliant and secure hosting where you need it
Smooth and scalable deployment
Our system can handle all the traffic you require – deploy multiple versions of a workflow, connect them to your current systems through our API module and enjoy a more hassle-free process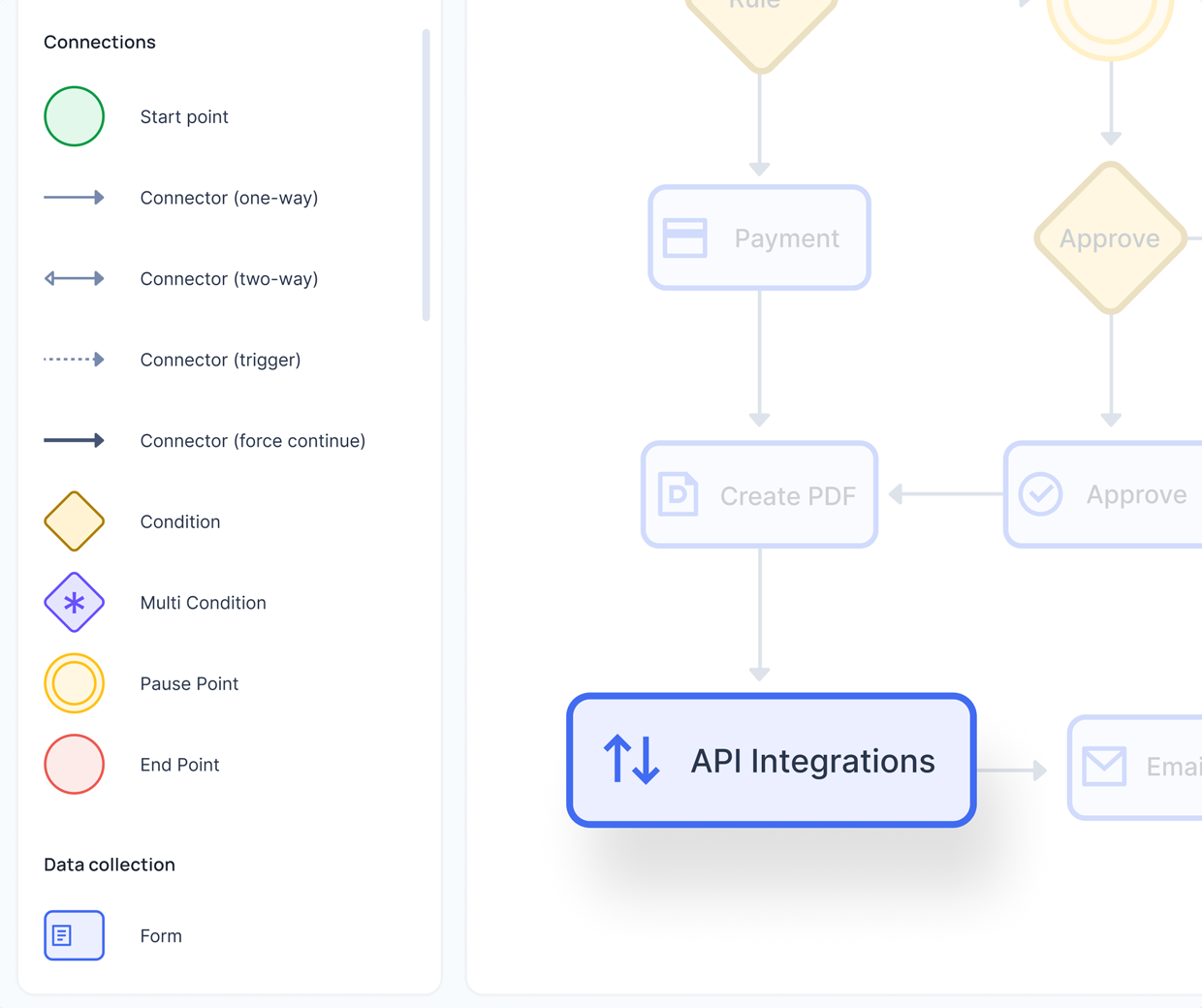 Connect to any API with minimal configuration
Our API component let's you connect to any system you need, or systems
Integrate your systems
Send XML, JSON or PDFs to ERP or file server. Fetch and populate. Get data from external sources and pre-fill forms and documents
Get, store and populate
Send a form submission directly to your API or grab any information you need from any API to pre-populate forms and information with ease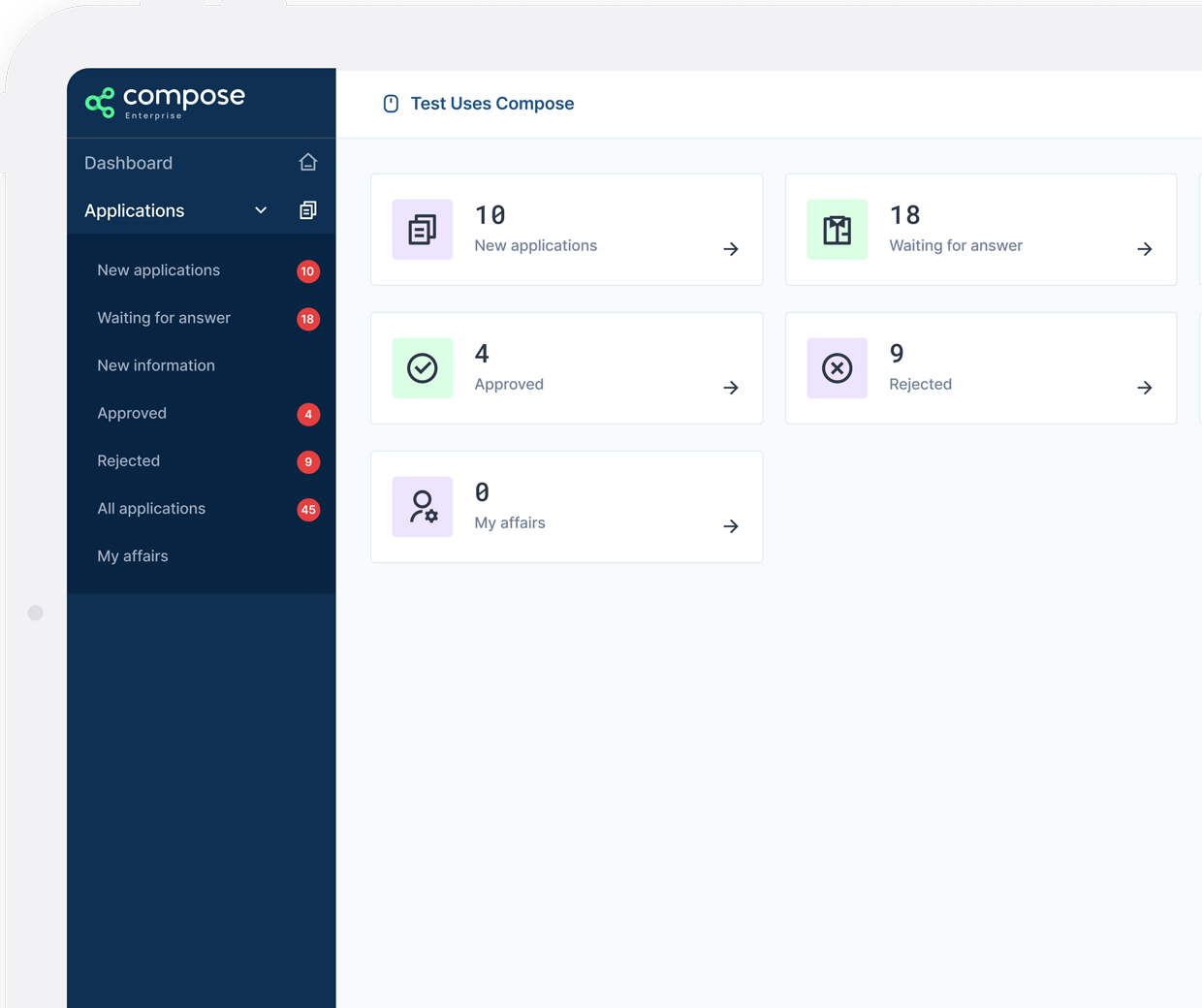 The speed of off the shelf & still fully customizable
With standard case management already built into the system but still fully adaptable you can shorten your time to market without compromising on functionality
Fully adaptable to your process
Your process is unique and you should not have to change the way you work to adapt to a system. Our case management adapts to fit your workflow
Better governance through structured data
Better structure can give you better insight into your case handling allowing you to get a better overview of the work at hand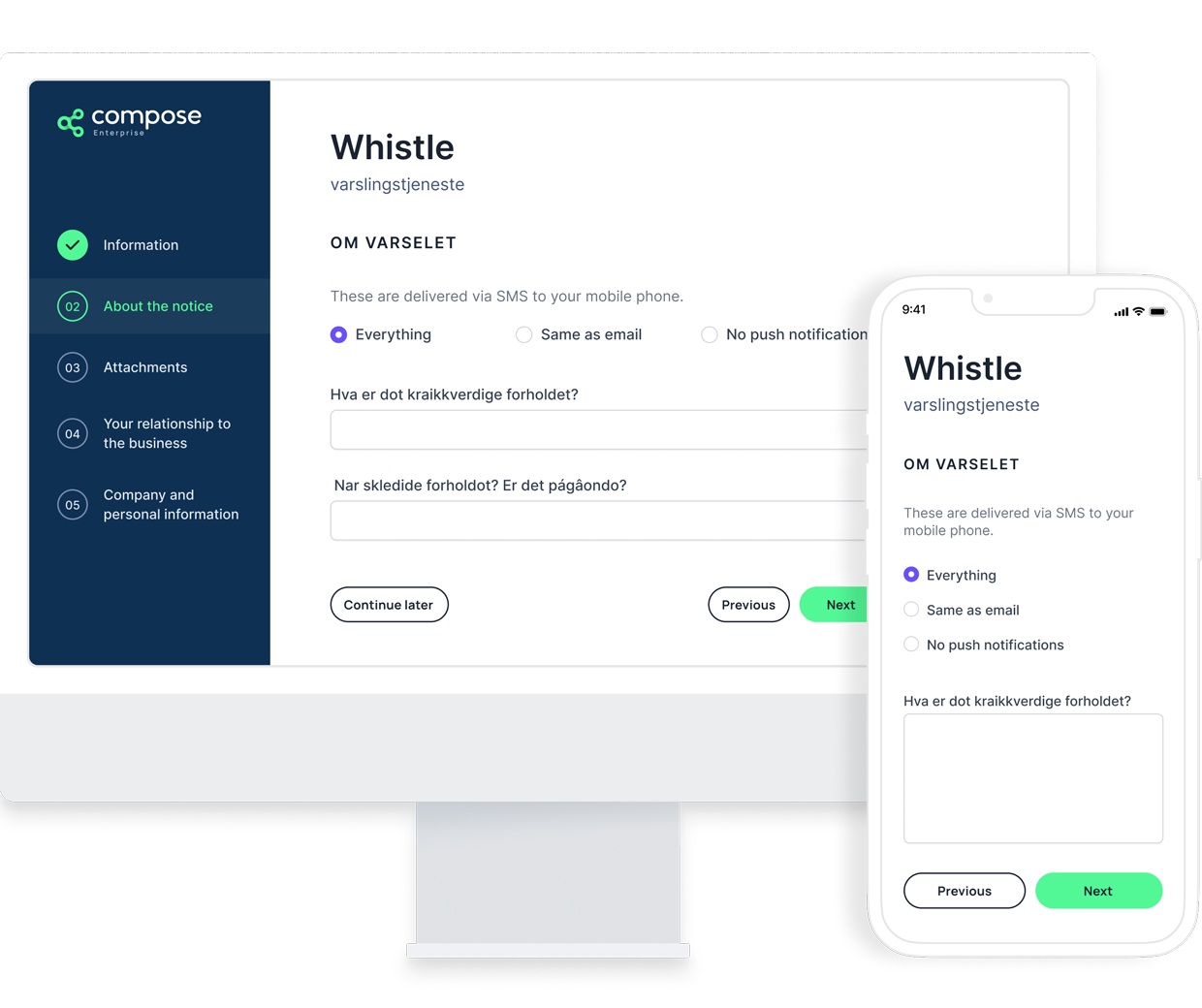 A great end-user experience
Fully customizable to fit your brand. You can make all forms and services fit your design style. With full responsive design you can ensure your users have a great experience regardless of device
WCAG compliant
Our solutions are WCAG compliant so all of your users can be sure to have a good experience using your system.
Security and GDPR built in
Compose is designed from the ground up to be secure and GDPR compliant so you can focus on the work at hand.
TESTIMONIAL
"With Compose we have delivered a lot in a short time, with few resources. Compose has been able to deliver on time and with a very satisfying quality."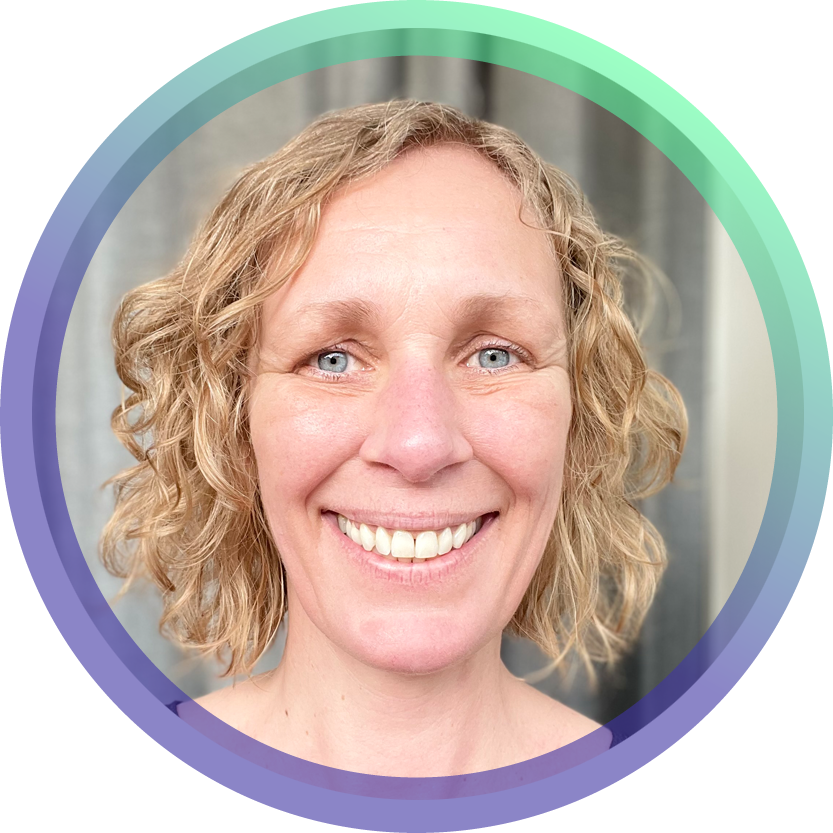 Ann Jørstad Nilsen
Project Manager, and Product Owner - The Norwegian Directorate of Fisheries
---
1000+
Tips received in 12 months 
Our automation experts are ready to answer any question you have or help you get started with building automations today